Home
As cold weather moves in to much of the U.S. and the holiday season approaches, many of us are thinking about home. We all yearn to make our own home a warm and comfortable shelter from the elements, a safe and soothing refuge after a long day, and an inviting space for family and friends to gather.
Here at Solidarity Bridge, we've also been thinking about the homes of all the patients we've served this year. As some of you may know, almost every patient we serve receives a home visit by one of our dedicated Bolivian social workers. These visits are part of the socio-economic evaluation that assures that our medical resources are channeled to those in greatest financial need. In this day and age, when many Bolivians have adopted modern customs and styles of dress, even wearing name-brand clothing (widely available second-hand or in cheap knock-off versions), outward appearances may offer a deceptive portrayal of socio-economic status. This is one of the reasons home visits are so valuable to our social workers, because they provide key insight into an individual's true day-to-day realities.
Through this blog, we invite you along on these visits into the homes of some of our 2015 patients. We are grateful for their open doors!
Outdoor Living Space
In both urban and rural homes, the patio, often shared among neighbors or extended family, provides key additional living space. Laundry, and even bathrooms and cooking spaces, are often communal.
Cooking Facilities
Fifty percent of Bolivian homes have a dedicated kitchen; the rest improvise cooking facilities in a multi-purpose space, or cook outside. As illustrated in these photos, propane gas from portable tanks is the most common cooking fuel in Bolivia, used in about two out of three homes.
Fun fact: Guano, cow dung, and similar "cooking fuels" are used in twice as many Bolivian homes (1.2%) as electric stoves (.6%).
Housing Constuction Types
While the vast majority of urban housing in Bolivia is constructed in cement block or brick, adobe continues to predominate in rural Bolivia. Dirt floors are surprisingly common throughout the country. For example, dirt floors are found in 14% of homes in the higher-developed Cochabamba and Santa Cruz regions, and in over 50% of housing in the rural Beni province.
Family Sleeping Areas
Sleeping spaces are commonly shared by the whole family. Great care is often evident to make them clean, comfortable, and warm places to rest.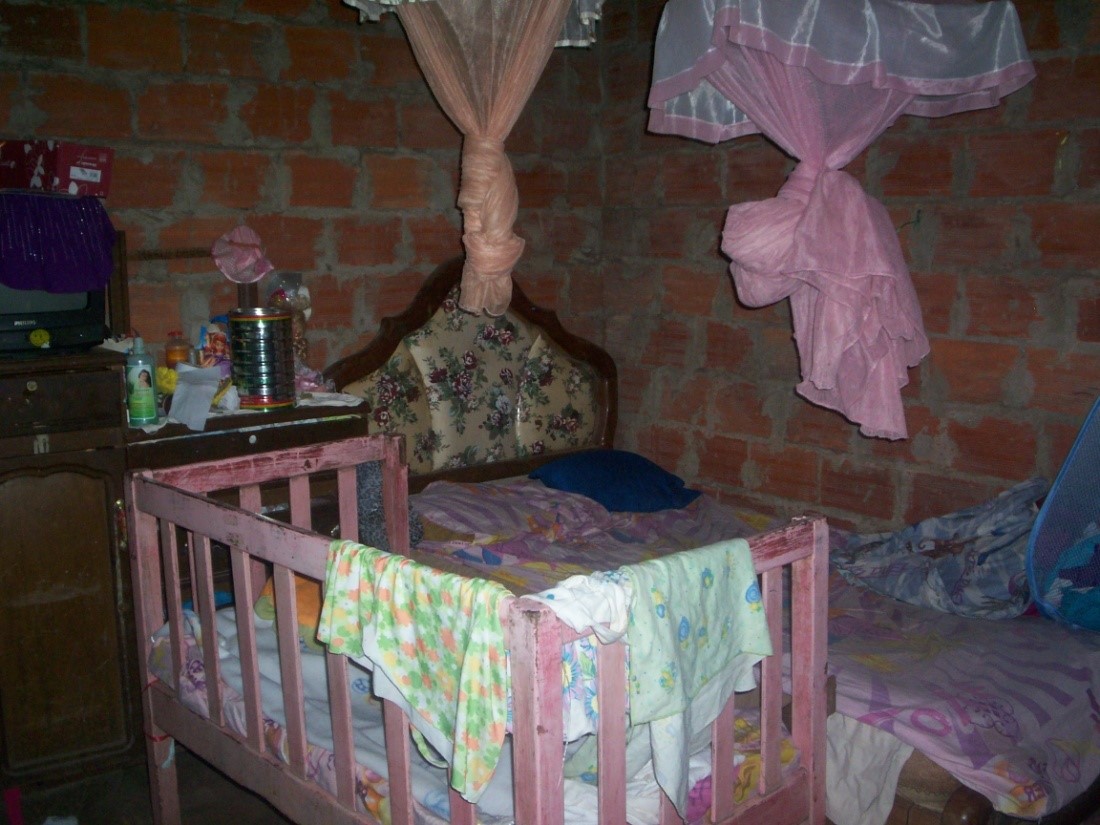 The Teen Corner
As you can see from two of our patients this year, teenagers everywhere like to make their space their own! And many of them also share a fondness for sassy t-shirts ("U Mad Bro?"). Thanks no doubt to the influences of the internet and television, the younger Bolivian generations especially dress much like our own teenagers in the U.S. Upon meeting them, we have found many also share the same hopes and aspirations.
No space is wasted!
Note the sign preserved high on the left wall: Dale!!! Denisse Tu Puedes, which roughly translates as: Give it your all, Denisse, you can do it! The "happy birthday" sign, which appears to have acquired a permanent spot up on the right, and the many children's photos and toys, suggest this home is filled with many joyful family moments.
May you and your family enjoy the same joyful moments together in your home this holiday season! While you do, please keep these images close to your heart. We hope they have helped open your eyes to the everyday realities of our Bolivian patients and their families. We are grateful to each of them for the privilege to be welcomed into their homes, and to serve them in 2015.